Our Leadership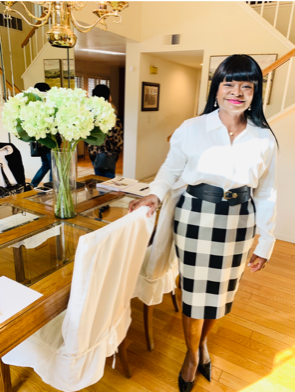 Bandele Oguntomilade
Phone: 818-825-6996
Email: Bandele@BogunRealty.com

Bandele Oguntomilade, our Principal Broker and CEO, is an Attorney-Turned-Top-Realtor®, whose remarkable career spans over 35 years – beginning with practicing architecture design, then she practiced real estate and mortgage banking law at executive levels for Fortune 500 mortgage banking companies. Now, she owns her unique boutique real estate brokerage firm for 17 years effectively selling trust assets, probate properties, luxury and estate homes that benefit from her unique skill set. She routinely sells diverse properties at significantly over asking prices, in record sales times, and achieving unprecedented results about which her clients consistently rave. Bandele is frequently featured in and has won the Los Angeles Daily News Readers Choice Top Real Estate Agent Award. Bandele's name literally means "follow me home." She has dedicated her working life to leading hundreds of people to homes of their dreams!
Rave Reviews

"Realtor® Bandele's legal background and sales expertise got our trust property sold at significantly above asking price. Her knowledge of excellent local vendors was the best thing for us living on the east coast. We had 2-1/2 weeks to empty the house and get it on the market. With Bandele's great expertise, not only did it happen we sold our trust property for $18,000 over asking and closed escrow in 6 weeks. I highly recommend Realtor® Bandele Oguntomilade - She is a powerhouse and force to be reckoned with in real estate sales." Mark Joseph and Deborah Joseph-Saunders, Trustee Sellers.
"Realtor® Bandele achieved unprecedented results selling our trust property at $188,000 over our asking price. She is tenacious, focused, resourceful, professional, innovative, an exceptional communicator and detailed oriented. She is our "Bringer of Blessings." Michael Brown, Trustee Seller.
"Realtor® Bandele is Exceptional! We had a number of obstacles related to the sale of our property. However, Bandele had a strategy to prevail in every instance. She was steadfast and accessible. She went above and beyond our expectations and has a clear edge above the competition. More importantly, she sold our property for $30,000 over the list price!" Michelle Banks-Ordone, Trustee Seller.
"With Realtor® Bandele, you explain your goals to her and STAND BACK!! She's off like a whirlwind. Her experience let's her "see around the corners". She's very conscientious about keeping you informed, and she guards your interest when problems arise." George Johnson, 1031 Exchange Buyer.
"Realtor® Bandele's ring tone on her phone should be "She Works Hard for the Money". She is phenomenal! After the death of my husband's uncle, Bandele was recommended to us. Best recommendation ever! From the listing presentation, to preparation of the house for sale, staging, marketing, she was outstanding. We were impressed every step of the way. She sold our trust property at record speed and at $131,000 over our asking price! After 2 open houses we had over 400 home seekers and received 19 offers. Who does that? Bandele Oguntomilade – she is the Realtor® you want!" Penny Hurley, Trustee Seller.